Admission:
School enjoys official recognition of matriculation board. Admissions open for all the students irrespective of caste, creed, religion and nationality what so ever.
Subjects of studies: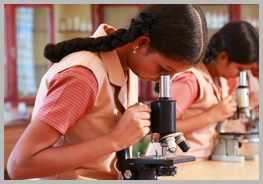 The school prepares pupils from pre KG to X STD for matriculation school examinations. Tamil is taught as second language and Hindi is the third language.
Pre KG - UKG - English, Tamil, Maths, Hindi, EVS, GK, Storytelling , Drawing and painting, craft, Rhymes (Eng, Tam and Hin)
I STD to X STD - English, Tamil, Maths, Hindi, EVS, Science, Social studies, Computer science, GK and Value education.
Co-curricular activities:
Pre KG - UKG - Indoor games, Yoga, smart classes, Personality Development
I STD to X STD - Drawing, painting, craft, sports, yoga, smart classes, music and Personality development.
Uniform:
Monday and Friday -> White and white with white shoes.
Other days -> Pink pants and body lined tops as per the school pattern with black shoes.
Rules and regulations
Pupil must be in the school campus at the time prescribed and attend the assembly without fail.
Parents are kindly requested to co-operate in the work of the school by enforcing regularity, punctuality, discipline and by taking interest in their children's progress.
Permission must be obtained from the principal to enter the class room when late to school.
Observe order and silence within school campus.
Students are advised not to bring any valuable articles to the school..
The spoken language in school campus is English.
Students are expected to take part in all extra-curricular activities of the school.
Pupils are responsible for any kind of damage done by them to the school building or school equipments.
Pupils are expected to bring all the materials in accordance with the requirements of the day.
Parents should check the handbook regularly and sign it everyday.
The parents can meet the principal when necessity arises concerning the progress of their children.
Pupils must wear full uniform on all working days and on special occasions.
Leave of absence is granted only at the request of the parent or guardian.
Parents – staff meeting are conducted to create a better or cordial relationship among the staff and parents so as to analyses how best a total and integral formation can be imparted to their students.
We look forward to the kind co-operation of the parents to join hands with us in this process of education which is indeed the need of the hour.
Timings:
Office Timings:
Morning – 8.30 am to 12.30 pm
Afternoon – 1.00 pm to 4.30 pm
School timings:
Morning – 8.45 am to 12.30 pm
Lunch break – 12.30 pm to 1.00 pm (For STD classes)
12.15 pm to 1.00 pm (For KG classes)
Afternoon – 1.00 pm to 3.00 pm